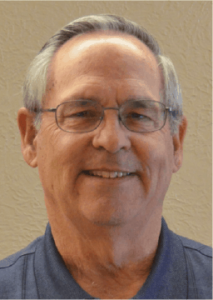 Car Enthusiasts
May 2019

Car Enthusiasts staged our 2019 Poker Run on Friday April 19th with 10 Activity Members and spouses participating. The 8 check point route produced a winning 5 card straight hand for Bob and Susan Weiss. The "Hood Ornament Challenge", identity game, at the initial start point filled in time awaiting the arrival of all participants. Bob Weiss and Ray Pixton split the winnings for identifying 5 of 7 classic vehicle hood ornaments. CE members just have a great time getting together.
A very hearty thanks to Alan Schulze and Bill Koski for the planning and execution of the event. We closed up the event with a luncheon at the Clubhouse Grill in Martinez where the awards were presented.
May will take several CE members to Buellton/Solvang for a long week end (May 3-6) with a museum tour and attendance at the Dry Lakes Hall of Fame induction ceremony. Summertime schedules are already cutting into event attendance.
June will take us to the Ladies Day Luncheon and Sir's in the Kitchen BBQ. We will again need two tables to satisfy attendance at the LDL. Several of our guys will also attend the BBQ.
Once our latest new members get their schedules synchronized we will see them more frequently at various events.
Our next CE meeting will be Tuesday, May 7th, at 1 PM in the Round Table Pizza meeting room, Oak Park Blvd. Pleasant Hill. Come a few minutes early to get your food and drink ordered prior to meeting. Meetings usually last about 1 hour. Come join us.
If interested in joining the Car Enthusiasts Activity, please contact any of the folks listed below.
Happy Motoring…
Activity Chair – Chick Lowry – Clowry2845@gmail.com
Assistant Chairs:
Tom Mohrman – mustangtpm@gmail.com
Bill Koski – billkos36@comcast.net
Dream Car
The 1960 DiDia 150 was a luxury, custom-designed iconic, handmade car also known as the "Dream Car" forever associated with its second owner, singer Bobby Darin. The car was designed by Andrew Di Dia, a clothing designer, who Bobby Darin had met whilst on tour in Detroit in 1957. Darin telling Di Dia at the time that he would purchase the car if he ever "hit it big". For seven years, from 1953 to 1960 the DiDia 150 was hand-built by four workers, at a cost of $93,647.29 but sold to Darin in 1961 at a cost of over $150,000 (1.5 million today). ] At the time the car was listed as most expensive 'custom-made' car in the world by the Guinness Book of Records. The body was hand-formed by Ron Clark and constructed by Bob Kaiser from Clark Kaiser Customs.
Its metallic red paint was made with 30 coats of ground diamonds for sparkle.
The normal V8 engine is located at the front with an engine displacement of 365/427. It has a rear-wheel drive, the body and chassis is hand-formed from 064 aluminum with a 125-inch wheelbase alloy tube frame.
It has a glass cockpit in back, a squared steering wheel and thermostatically controlled air conditioning system.
The design included the first backseat-mounted radio speakers and hidden windshield wipers, that started themselves when it rained. Other features include retractable headlamps, rear indicators that swivel as the car turns, 'floating' bumpers and a trunk that was hinged from the driver's side. Each of the four bucket seats have their own thermostatically controlled air conditioning, individual cigarette lighters and ashtrays, as well as a radio speaker. The original engine, a Cadillac V8, was later replaced by a 427 high-performance by Ford when it was taken on the show circuit.
Darin drove his wife, Sandra Dee, in the car to the 34th Academy Awards in 1961. After publicity and film use, Darin donated his "Dream Car" to the St Louis Museum of Transportation in 1970 where it remains. : CAR ENTHUSIAST, SIR DAVE SUTTON
If you have an interest in joining Car Enthusiasts please contact any of the individuals noted below:
Chairman Chick Lowry, 932-4886 clowry2845@aol.com
Asst. Chair – Tom Mohrman, 516-242-1635 (cell) mustangtpm@gmail.com
Asst. Chair – Bill Koski, 672-7650 billkos36@comcast.net
Asst. Chair – Bob McMains, 937-6391 stude35@mac.com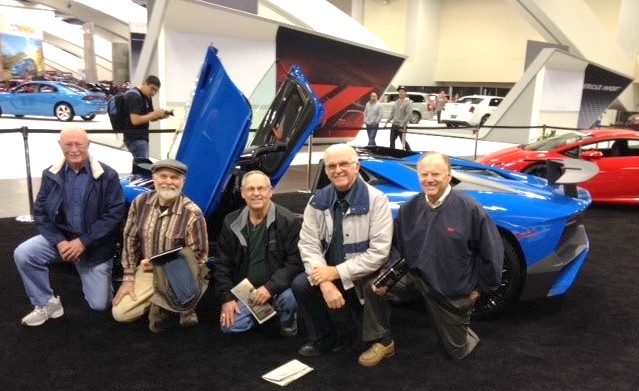 Left to right: Sirs Bill Peterson, Tom Hodgson, Chick Lowry, Bob McMains, Dennis Reschke and a partial view of the Lamborghini we found to be a heartbreaker we couldn't own.