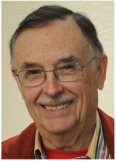 Chairman: 254-8338
rphelon@juno.com
There were 13 of us intrepid photographers at Robins Lamont's home for our March meeting. There were not only Great Snacks, but Robin demonstrated his growing computer literacy with his new, large screen TV. Way to Go!
The memberships' photos covered a quite a wide range of "emotions." Sal showed us a "bewildered" birthday look; Jock caught a pose to appose: Dick had an old biker with a bit of pain; Ken had a lineup of cops with a variety of "attitudes;" Dave D demonstrated many moods including silence and snow; Hans, however, caught a beautiful proposal; and, Nick showed us a "little one" overwhelmed at his first birthday; But, Dave M managed to top the show with his Carnival Lady Dancer! You had to be there to enjoy it!
We meet again April 19, at Jock MacKaig's home. The subject is "Phone Photography." A week or so before the meeting, Jock will be sending out directions to his home and requesting responses for attendance. Please respond promptly.
Bill Phelon, Chair Dave Davis, Vice Chair
rpheon@juno.com dav.davis@comcast.net
254-8338 838-1753
updated 3/28/19 by DLS
———————————————————————————————
The Digital Photography Group meetings begin at 10:00 AM on the third Friday of the month. Coffee, tea and snacks are provided, for which we ask a $2 donation. All levels of photographer are welcome, from point and shooters to sophisticated mirrorless & DSLR users. We even entertain phone photos!
To provide some structure to our meetings, we assign "themes" for our photos. Each Theme runs for at least two meetings, giving us more opportunity to get the shots we want. Thus, each meeting will have a new Theme as well as photos from the Theme for the previous month or months. Monthly photos may be divide in any manner between the two Themes – i.e., you don't have to split your photos 50-50. Another benefit of including shots using a previous month's Theme is that you can take photos using ideas or techniques learned from others the previous month.
Your photo limit for showing is 12 shots on a flash drive. Although we have "theme assignments," we also strive for flexibility – you may bring photos you think the members would enjoy or learn from, whether or not they support the current Themes. Or, if things are not working out, you may skip showing your photos in any month.
During the photo showings, we do encourage you to discuss both your photos and those of others – what you liked, what you didn't like. The goal is to help each of us improve our photography.
THEME ASSIGNMENTS FOR 2019
| | | |
| --- | --- | --- |
| January | | Holiday Photos |
| February | | Your Best of Last Year/Jan-Nov (Potpourri) |
| March | | Emotions, e.g. happiness, fear, anger |
| April | | Phone photography |
| May | | Black & White |
| June | | Clouds |
| July | | Photography as Art |
| August | | Bokeh |
| September | | Speaker – subject TBD |
| October | | "Scavenger hunt" Outing |
| Novermber | | "Scavenger hunt" Photos |
| December | | Digital Photo Activity Lunch |