Chairman: Ed Benson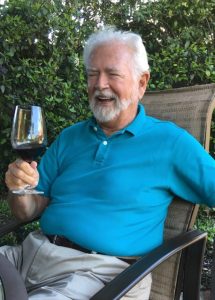 An Ode to St. Paddy
This is being written prior to the meeting due to the Hotline Deadline.
Thirty Sirs in the Kitchen will celebrate the feast that the Hilton didn't provide. We will start with a Guinness Beer Cheese dip with pretzels and various chips followed by something green – pea soup shooters. The luncheon features EC Ed's corned beef, oven roasted potatoes with garlic and braised red cabbage with bacon, onion and
apples. Dessert will be green too; remember grasshopper pie from the olden days? Ms
Donna slaved over them.
We're expecting quite a feast! Sous chef duty fells to Executive Sous Chefs Ron and Thom ably assisted by Larry and Raleigh. Jack will fill the role of  sommelier
 to keep the wine and beer flowing. And, of course, we count on our set up, take down and clean up crews.
The event will be mostly held inside. Maybe next month we can take the covers off the patio furniture and venture outside. And, speaking of next month, our meeting will be held on April 16. The menu is a bit up in the air. It would be great to have our usual crab feed with clam chowder, crab cakes
and
cracked crab. Hopefully
we'll be able to get the crab and pay a decent price. In past years we've had to raise the luncheon price to $25 so
 prepare your spouse/partner for the shock. If we can't do crab, we'll figure out some other delight. Stay tuned.
An April 1 Update (No Joke):
We had thought we would have crab for our April 16 luncheon, but alas, the early end to the local crab season has killed those hopes.  Instead, our menu will be:
Grilled Radicchio Salad
Beef Braised in Zinfandel
Garlic Mashed Potatoes
Roasted Root Vegetables
A glass of Port (Complements of Bruce Utter)
Coffee
Sirs in the Kitchen is now at 52 members. If you want to join, drop Executive Chef Ed an email (

ebensonbwa@aol.com

), call him (925-943-7011) or catch him at the monthly meeting. All luncheons are at Casa Benson and cost $20; that's the best deal in town.
Updated 4/01/2019  tjk
Slideshow from Feb 19, 2019
[ngg src="galleries" ids="67″ display="basic_slideshow"]
Pictures from the September 18, 2018 luncheon.